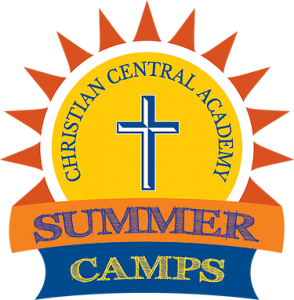 DAY CAMP
Ages 5-10
3 weeks of summer fun!
July 9-July 27 – 7:30am-3:30pm
Daily Schedule (2018):
Monday, Wednesday, Friday:

| Time | Activity |
| --- | --- |
| 7:30-8:30AM | Check-In |
| 8:30-9:00AM | Bible Lesson (daily) |
| 9:00-11:30AM | Rotations (sports, arts, music, etc.) |
| 11:30-Noon | Lunch |
| Noon-3:00PM | Wading pools, pools, local parks & playgrounds* |
| 3:30PM | Dismissal |
* Local areas we may visit include but are not limited to: Billy Wilson Park, Losson Park, Harris Hills playground, Garrison Park, Island Park, Como Park, Payne Park, Kohler Park, and Akron Falls Park.​
Tuesday, Thursdays
Field trips! See Camp Registration for a list of field trips offered.
Rates per child (2018):
Daily: $40 (Field trip days cost $2-$10 more)
Weekly: (Save 15%)
Week 1: $176
Week 2: $181
Week 3: $180
NOTE: Additional siblings are discounted 10%.
Purchase a lunch for $3/day; $15/week
A snack is provided each afternoon for all campers.
Click the button below to register for the day camp.
SUMMER READING and/or MATH CAMP
Ages 6-14
July 30-August 3
This one week camp is to help your child work on targeted reading and math skills taught by certified, experienced teachers. You may want to sign your child up to touch up on their skills over the summer before the next school year, or work on areas of need identified by their teachers during the past school year. We strive to make this a fun, engaging learning experience! Grades 2-7 will work on their summer reading assignments in addition to skills they need. Some learning activities may be done outside, or even at a local park. Students must come all 5 days, but you may choose to do only the reading program (half day), only the math program (half day), or both programs (full day). This is a great value since traditional tutoring costs around $30-$40 an hour!
Daily Schedule/Rates per child (2018):

| Activity | Time | Cost |
| --- | --- | --- |
| Reading Camp | 9:00-11:00AM | $62.50 |
| Math Camp | Noon-2:00PM | $62.50 |
| Both Camps | 9:00-2:00PM | $125 |

If you sign up your child for both programs, the time in between will be spend eating lunch (pack your lunch or pay to have one provided) and taking a break before the next session starts.

Use the button below to register for Reading / Math Camp.