About the Gala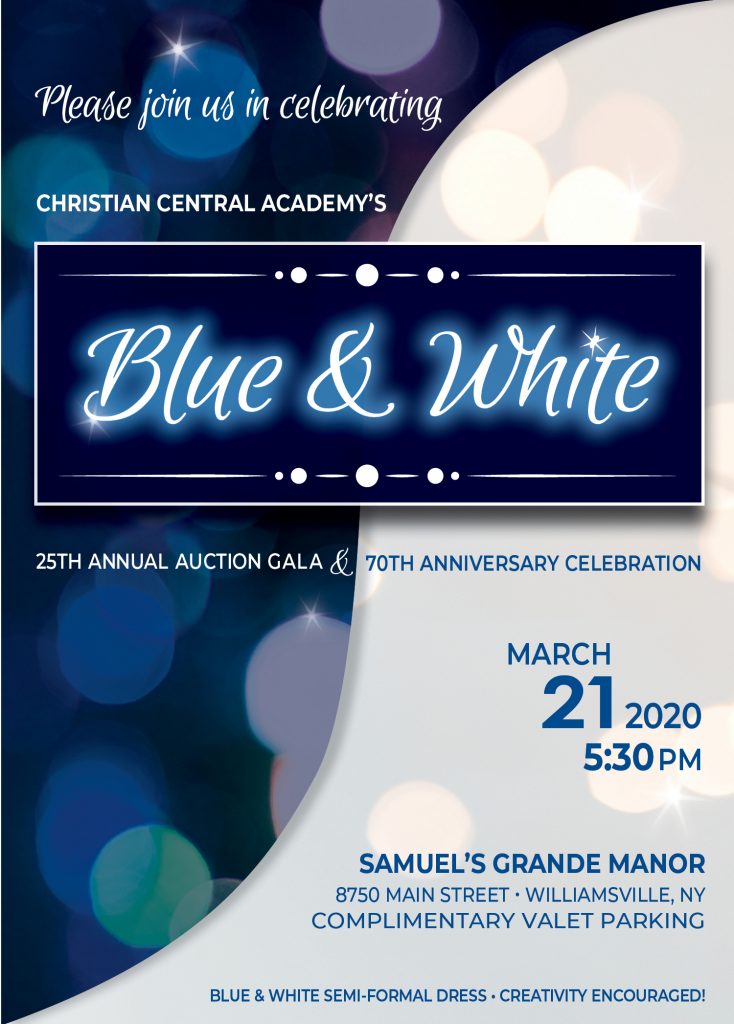 Since 1995, CCA has hosted an annual Auction Gala with proceeds benefiting the school. As an independent, private institution, Christian Central Academy relies upon both tuition and the steadfast support of our community in order to continue providing the best in K-12 Christian Education, in an environment where Christ always comes first.​
Each year friends of CCA gather at our Auction Gala to celebrate and recognize God's hand on our school, and to continue the advancement of Christian Education in WNY.
This year's gala has been rescheduled to Friday, June 5th, 2020. Please contact the Special Events Office to be added to our invitation list, or fill out a request here.
A successful Gala is made possible through the time, talent, and treasure of many. We are so grateful for the kindness and generosity of all the individuals, families, churches, and local businesses who support the Gala, and especially for the support of our Community and Event Sponsors. Thank you so much for partnering with CCA to change the lives of students and families in our community!
Shelia Swart
Special Events Manager
sswart@christianca.com
(716) 634-4821, ext. 110
Past Auction/Gala Themes
1996: CornuCopiA Auction
1997: CornuCopiA Auction
1998: CornuCopiA Auction
1999: CornuCopiA Auction
2000: CornuCopiA Auction
2001: CornuCopiA Auction
2002: CornuCopiA Auction
2003: For Such a Time as This
2004: CornuCopiA Auction
2005: CornuCopiA Auction
2006: Rejoice
2007: CornuCopiA Auction
2008: Walking Wisely
2009: Remembering His Faithfulness
2010: The Living Word
2011: Reach for the Stars
2012: It's A Wonderful Life
2013: Directing our Course
2014: Fight the Good Fight
2015: Celebrating 20 Years of God's Faithfulness
2016: Standing in the Gap
2017: Christ, Character, Community
2018: Garlands of Gratitude, for God's Glory
2019: Cirque du CCA – Rejoice Always!
Our Community Partners & Events Sponsors
Alden State Bank
Amherst Cleaning Services
Anthony Baldi & Associates
Aurora Home Care, Inc.
Barbara Oliver Jewelry
Cornerstone Periodontics & Dental Implants
Firth Jewelers
Hildreth Electric
Lippes Mathias Wexler Friedman LLP
Prosperity Wealth Management
Robertson & Bach Fine Jewelry
Sandhill Investment Management
Skrobacz & Company
SLG Financial Advisors
The Chapel
The OSC Charitable Foundation
VisoneCo Site Development