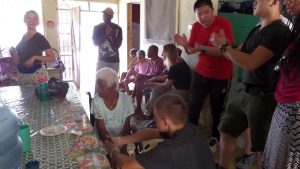 Today, our group met up in the morning for breakfast and got onto the bus to drive to the Nursing Home at Monti Cristi. While there, we were able to put lotion on the hands and feet of the elderly. It was a humbling experience for those who participated, and hearing the stories from the men and women there was life changing.
A group of six of us spent time talking to a woman named Reina, who is going on her sixth year living at the home. She told us her story, of how she lost her leg in a car accident, how she was rejected by her own family because of her faith and was then left with absolutely nothing but Jesus. Reina told us that Jesus continues to tell her where she needs to be, and today, He directed her to minister to us. Reina had amazing English speaking skills so our conversations never ran dry. We had to pull ourselves away from her. She truly is a woman of God. Reina gathered us around her, held our faces, and surrounded us with the love of Christ. Reina pulled us close, and Josh Tyson prayed for her. She was overflowing with tears of joy and sadness, just as we were. The Holy Spirit was powerful in that moment, and is living within beautiful Reina.
The Nursing Home greatly impacted our lives, especially mine personally. I learned how to completely trust in God, and saw a picture of what that looks like through the way Reina talked, prayed, and lives her life.
-Lauren Fleming (p.s. hello family, I am still alive J)
My experience today was awesome and breathtaking. I feel so blessed and thankful, to be a part of such a great opportunity. I'm surrounded by so many beautiful and friendly people. So far my favorite part was sharing the gospel with others; and praying with them as well. I feel so blessed, to share the good news of Jesus Christ with others. I loved when we entered the village, and the little children were running up to the bus. They were so excited and overjoyed to see us. I also feel that God has placed me here for a reason. The purpose is to share the gospel with others, and to leave a long lasting impact on their lives. I love to help the Dominican people, and they are very appreciative. Even though the Dominican people do not have much, they are always happy and filled with joy. The reason is because; they are filled with the Holy Spirit. It is beautiful to see the Dominican people so happy and content. It breaks my heart when we have to leave the villages and the nursing homes. I would say the most rewarding thing about missionary work, is at the end of the day you feel good in your heart because you have helped so many people come closer to God.
Another favorite memory I have is, when I played with the children in the village. I carried the children on my back and played games with them. I would say that is one of my favorite things so far. I cannot wait to experience everything God has in store for us. It is breathtaking and surreal at the same time. It is amazing how God works through us to bring others closer to Christ. I am so glad I can share the gospel with others and bring them closer to Jesus Christ.
-Matthew Helminski
This afternoon my class and I were blessed to have the opportunity to travel to the Emmanuel School, which is a school for kids that live in extreme poverty and have developmental disabilities. We arrived at the school and all went upstairs to hear Mirqueya, the founder, share her testimony with us. She explained that when she was a child she felt hopeless and unloved by her father. She wanted to feel like she belonged and desired a personal relationship with him. When she was seventeen she finally found the love she had been searching for in developing a relationship with Jesus Christ. He took her life and transformed her heart with His love. Through her faith, God gave her a passion to share His love with kids who come from the same background she did. Following her testimony, we took a tour of the school and saw where the children learn and grow. It was amazing to see how God supplied all of the needs for the school to exist.
After that, we took about twenty bags of food and toiletries to families who have students that attend the Emmanuel School. We prayed, shared love with the families, and were able to encourage them. Giving them these gifts had a very visible impact on them.
As this is the only second full day of the trip, it is getting harder and harder to leave the children and adults who have shown me nothing but love and kindness. When we were handing out the food bags, all the kids in this small town began to follow us. One little girl ran right into my arms after I came off the bus. For an hour straight, I held the little one and loved on her. I was heartbroken to leave her.
The truth is, that going on this trip, I thought that I was going to impact these people's lives. But, they have been impacting me more than I have them. I feel blessed and honored to give something so small, and yet to receive an amazing response. I give God all the glory as we are able to help those in need.
-Jillian
Today was another successful day, and I am so thankful for what took place. Visiting the Emmanuel School was such a blessing for me. Mirqueya has persevered through so much and is now running a school that has such a large influence on so many people in her community. God has given her the talents and resources to be a blessing academically, spiritually, and socially. Having gone to school almost my entire life, as well as having the choice of where I want to go, I never realized how hard it is to actually attend school here in the Dominican. Kids are pushed away from an education because of things like not having the right clothes, money, and/or substantial documentation. It makes me sad to know that not every child has that opportunity here. At the same time, I am glad that Mirqueya has been able to reach out and help her community.
When we went around and delivered food and toiletries to families who have children going to Emmanuel School, they were so thankful for what they were being given. We prayed that God would bless them and take care of them. The second day has impacted me so much, and I cannot wait for the rest of the week!
-JT
Devotions
What a night! Students sharing many thoughts like "who am I to think I am better than anyone" , "I have so much to be thankful for and yet I complain", " why did it take us to come all the way here to get it" , " I felt as though I was looking into the face of Jesus and I did not want to leave", and " I never felt God speak to me before in that way." God is working in the hearts of the students – some more than others but He is working. Thank you for your prayers and keep praying.
-Mrs. Wade