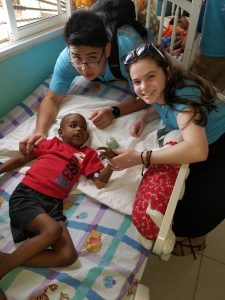 Our day started with morning devotions on the beach. About half of the class wanted to watch the sunrise. What a beautiful way to start our day.
This morning we went to the capitol, Santo Domingo. While on our way we passed by where Columbus landed back in 1492 when he discovered the Americas. There was a giant cross there as the monument. After this we headed downtown where we visited a straw market, which is similar to a flea market. There, we were able to barter with various vendors and artisans for souvenirs and such. Many people were there, and it was a good time for us to see how to barter. We then visited the oldest cathedral in the new found world. There we saw the many tombs and grandeur that surrounds this old place. Lunch was at an authentic Dominican Restaurant, where we enjoyed food and dance. In the afternoon we were able to visit an orphanage dedicated to the care of handicapped children. Our hearts were touched and many tears shed visiting these precious young people. We sang songs and played games, making many of them extremely happy. We ended the day with devotions and dinner.
Today we went shopping and were able to barter with some of the shop owners. We also participated in some sightseeing; however, I'd say we would all agree the time we best enjoyed was that at the orphanage. We were able to play with kids who had handicaps, pray with them and sing to them. All of us were touched by the smiles that all the kids had and the giggles that we were able to evoke from them. The bus ride home was quiet and many cried thinking about the beautiful children we had just been blessed to meet. It was truly an eye opening experience in the sense that it made each and every one of us look at how blessed we are to be able to walk, talk, and comprehend abstract ideas. There was not a single person in those rooms that was not touched by the fact God has given us so much.
-Anna Parlato and Spencer Kiesling
Devotions –
Mr. Wade gave his testimony and challenged the students to base their relationships ( marriage) with Christ as the center. Discussion about temporary worldly satisfaction verse eternal glory was very good. and how trials can strengthen your walk with Christ. Jeff talked about how sexual relations within marriage exemplify our relationship with Christ. By waiting for this relationship, God will bless them.